Ten Years of PROSPERO
This month PROSPERO celebrates ten years since its launch in February 2011. Since then PROSPERO has proved highly successful in persuading researchers to register their protocols. The total number of registrations has increased from 284 in 2011 to over 100,000 by the end of 2020.
In 2021, PROSPERO continues to fast-track the registration of protocols related to COVID-19, helping researchers to prioritise research initiatives during the pandemic. PROSPERO has now registered over 3200 protocols related to COVID-19.
PROSPERO and COVID-19
Since March, PROSPERO has been fast-tracking the registration of protocols related to COVID-19. This is helping researchers to prioritise research initiatives, avoid research waste and contribute more effectively to tackling the pandemic.
PROSPERO has now registered over 2000 protocols related to COVID-19. Users can easily search for COVID-19 related protocols by research area, using a new shortcut search function on the PROSPERO website. We have also implemented an option for users to tag the research area(s) of their own protocol when registering.
PROSPERO has also secured additional funding from the NIHR Evaluation, Trials and Studies Coordinating Centre (NETSCC) to investigate the nature and scale of duplication within systematic review protocols related to COVID-19. This work is due to commence in October 2020.
PROSPERO has seen an unprecedented number of submission over recent years and now holds over 52,000 records
During 2018 and 2019, over 30,000 new submissions were made from 118 different countries.
The PROSPERO website has seen some recent updates to help users when registering. These include improvements to the guidance provided on the PROSPERO website to aid users filling out the PROSPERO form. Guidance for the risk of bias, data extraction and data synthesis fields have all been updated. The references and resources page on the PROSPERO website has also seen recent updates. Here general guidance on writing systematic review protocols and the importance of prospective registration is provided. We continue to encourage users to follow this guidance when registering with PROSPERO.
PROSPERO REGISTRATIONS REACH 20,000
PROSPERO CRD's international prospective register of systematic review protocols has reached the landmark achievement of 20,000 registrations.
Launched in February 2011, registrations reached 10,000 in November 2015 and in just over a year has doubled in size to include 20,000 records from 107 countries.
During 2016 there were 364,806 visits to the PROSPERO website from 210 countries, territories or colonies worldwide.
PROSPERO, which is funded by the National Institute for Health Research (NIHR), encourages research transparency and helps safeguard against selective reporting by providing a permanent record of the methods and outcomes set out in the systematic review protocol, against which the final review can be compared. PROSPERO also aims to reduce unintended duplication and research waste by encouraging researchers to check whether similar reviews exist before they embark on a new one.
Registration is web-based, the database is free to use and open to all researchers planning to conduct a systematic review and those wishing to search for registered ongoing or completed reviews
PROSPERO publishes 10,000th record
PROSPERO now holds over 10,000 records.
Launched in February 2011, PROSPERO was developed and is produced by the Centre for Reviews and Dissemination (CRD) at the University of York, and is funded by the National Institute for Health Research (NIHR). PROSPERO is the only open access prospective register of systematic reviews with a health related outcome. Registration is web-based, completely free to use and open to all researchers planning to conduct a systematic review.
Professor Dame Sally C. Davies FRS FMedsci, Chief Medical Officer and Chief Scientific Adviser, Department of Health, said: "Reaching over 10,000 registrations on PROSPERO is a great achievement. Through the National Institute for Health Research we are proud to be leading the world on transparency and making sure the best quality evidence is available to avoid duplicate reviews. "By promoting transparency, NIHR has already been able to avoid commissioning duplicate reviews."
PROSPERO initially focused on reviews of interventions, the scope for inclusion has subsequently broadened to include protocols of systematic reviews relevant to health and social care, welfare, public health, education, crime, justice, and international development, where there is a health related outcome.
From October 2014 new protocols published in the Cochrane Library have been automatically loaded into PROSPERO to provide a single point of access to information about on-going systematic reviews. Cochrane reviews make up around 10% of the content of PROSPERO.
Future growth of the register is set to continue with a new public interface imminent, and work on the inclusion of protocols of systematic reviews of pre-clinical studies progresses well. PROSPERO will continue to play an increasing part of the drive to reduce waste and promote high standards in health research.
Increasing value and reducing waste in biomedical research
PROSPERO supports the aims of REWARD, the REduce research Waste And Reward Diligence group who wrote the series on Increasing Value and Reducing Waste in The Lancet in 2014 and the EQUATOR network. Registration and abstract submission for a joint conference – Increasing value and reducing waste in biomedical research, 28-30 September 2015, Edinburgh – are now available here: http://www.equator-network.org/2015/08/16/research-waste-equator-conference-2015/
The Conference will be of great interest to health research scientists and clinicians, journal editors and peer reviewers, publishers, regulators, research funders and other professionals involved in research education, research governance and the publication of medical research.
The focus of the conference is to:
Combine EQUATOR and REWARD themes in one conference
Recap The Lancet series findings and recommendations
Review the progress made by researchers, funders, regulators, publishers, industry, and research users against the recommendations in the series
Bring out specific themes for making research better and more efficient, e.g.: collaboration between researchers, funders, conduct/reporting organisations, regulatory authorities and publishers; specific perspectives of each of these groups of key players.
Derive a consensus statement and action plan for making progress against the recommendations of the series, after presentations and a constructive moderated discussion
Seek endorsement for the consensus statement
Confirmed speakers include: Prof Doug Altman, Prof Rustam Al-Shahi Salman, Sir Iain Chalmers, Dr An-Wen Chan, Prof Paul Glasziou, Dr Trish Groves, Prof John Ioannidis, Prof Frank Miedema, Dr David Moher, Prof Andrew Morris (Chief Scientist, Scotland), and Dr Janet Wisely (HRA). The meeting will also include the Annual Equator Lecture presented by Dr Luis Gabriel Cuervo and will be launched by Jamie Hepburn (Minister for Sport Health Improvement and Mental Health, The Scottish Government).
Current sponsors for this meeting are: Chief Scientist Office of the Scottish Government, the Wellcome Trust, Visit Scotland, and JAMA.
PROSPERO supports open access data repository
PROSPERO supports transparency, avoiding duplication of research effort and sharing data and information. We are therefore pleased to endorse the Systematic Review Data Repository (SRDR) initiative.
The SRDR platform facilitates the extraction and management of data for systematic reviews and meta-analyses, creating a central database that can be critiqued, updated, and augmented on an ongoing basis.
By facilitating open access to extracted data, SRDR helps to provide transparency and reliability in the systematic review process and a more efficient means of producing and updating systematic reviews. SRDR also aims to promote cooperation and utilization across related resources, including PROSPERO.
We encourage PROSPERO registrants to make their extracted data available through SRDR or other data repositories and to include relevant details of planned data storage and sharing in their PROSPERO record.
SRDR was developed by the Evidence-based Practice Center (EPC) at Tufts Medical Center, it is now maintained by the Brown University Evidence-based Practice Center with support from the Agency for Healthcare Research and Quality (AHRQ).

http://ahrq-srdr-prod-347362009.us-east-1.elb.amazonaws.com/(9 March 2015)
Guidance on reporting review protocols: PRISMA-P
The Preferred Reporting Items for Systematic reviews and Meta-Analyses for Protocols (PRISMA-P) Statement has been published in the journal Systematic Reviews. The 17-item checklist aims to "facilitate the preparation and reporting of a robust protocol for the systematic review". It is supported by an Elaboration and Explanation paper in the BMJ, which details the need for each checklist item and provides a model example.
Accompanying blogs also highlight the role of accurate reporting, registration and publication of systematic review protocols in reducing waste in research:
http://blogs.biomedcentral.com/bmcblog/2015/01/05/planning-a-systematic-review-think-protocols/
http://blogs.bmj.com/bmj/2015/01/05/the-bmj-today-meta-analyses-and-meta-meta-analyses/
(6 January 2015)
5,000 records published and counting!
PROSPERO now contains over 5,000 records of prospectively registered systematic reviews. Submission rates continue to climb, with nearly double the number being registered this year compared to last year. As the content grows the register provides an increasingly valuable resource for identifying on-going reviews to help avoid unplanned duplication. Many thanks to all our registrants, visitors and supporters.
The 5000th record is for a systematic review of the effectiveness of intermittent pneumatic compression devices for venous thromboembolism prophylaxis in high-risk medical and surgical patients. The review is being undertaken by researchers in the USA, funded by the Veterans Health Evidence Synthesis program. http://www.crd.york.ac.uk/PROSPERO/display_record.asp?ID=CRD42014015157 (25th November 2014)
Statement of founding principles
The PROSPERO Advisory Group have updated the
Statement of Founding Principles
. The statement centres on both registration and access to search the database being free of charge. Planning and development decisions aim to make PROSPERO as inclusive as possible while ensuring we achieve the key aims of avoiding duplication and minimising bias in systematic reviews.
(17 June 2014)
Research: Increasing value, reducing waste
PROSPERO supports the aims of researchwaste.net, a website created to promote the issues raised in a series of articles on research published earlier this year in The Lancet.
"The website aims to be a place to share and exchange documentation, information, and resources on how to increase the value of both basic and applied research and reduce or avoid wasting research."(16 May 2014)
How to reduce unnecessary duplication: use PROSPERO
BJOG, an international journal of obstetrics and Gynaecology has released a commentary entitled "How to reduce unnecessary duplication: use PROSPERO", to accompany the publication in the same issue of two systematic reviews on the same topic. The commentary discusses the issues of planned vs unnecessary duplication, and the problem of unplanned duplication through lack of awareness of reviews already underway. Read more...(14 March 2014)
Lancet series: 'Research: increasing value, reducing waste'
The merits of protocol registration are highlighted in a Lancet series on 'Research: increasing value, reducing waste'. The value of PROSPERO in providing transparency in the review process, and helping avoid unplanned duplication are recognised as already helping address some of the issues raised in the series. See the full collection of commentaries and papers at:
http://www.thelancet.com/series/research
(14 January 2014)
EQUATOR network supports PROSPERO
As PROSPERO registrations pass the 2600 mark, we are delighted that the EQUATOR network has joined our list of supporters with the following statement:

"Serious deficiencies in health research publications undermine the robustness and reliability of the available evidence which impedes the development of systematic reviews. The prospective registration of systematic reviews and the availability of review protocols can increase transparency and reliability of ongoing research and prevent unnecessary duplication of effort thus helping to reduce waste in medical research.
The EQUATOR Network, an international initiative working to improve the reliability and value of health research literature by promoting good research reporting practices, wholeheartedly supports the aims of PROSPERO and encourages registration of systematic reviews."
(9 January 2014)
PROSPERO's progress and activities 2012/13
Details of how PROSPERO has progressed have been published in a letter in the journal Systematic Reviews.
Between July 2012 and June 2013, 1,106 registrations were added, bringing the total since launch in February 2011 to 1,704. The value of the growing number of records is reflected in a 117% increase in page views in the first half of 2013 compared with the first half of 2012.
Developments over the year included expansion of scope, improvement of the registration form and easier access to information on how to register. To read the full letter go to
http://www.systematicreviewsjournal.com/content/2/1/111#
(16 December 2013)
Cochrane protocols: the icing on the PROSPERO cake
We are pleased to announce that new Cochrane protocols are now being automatically added to PROSPERO.
From the inception of PROSPERO The Cochrane Collaboration has been a strong supporter of the principle of registration of protocols for all systematic reviews. This support has been mobilised in the agreement that new Cochrane protocols published from 1 October 2013 onward are to be included in PROSPERO. Joint work to develop an automated upload of key features from new Cochrane protocols for interventions and diagnostic test accuracy reviews means this information will be available within PROSPERO without adding to the work of Cochrane reviewers.
Registration is important as it helps avoid unplanned duplication of reviews and aims to minimise the risk of bias by making the production of reviews transparent. In turn this helps with the efficient use of resources and the quality of the evidence underpinning health and social care decisions.
PROSPERO is web-based, free to search and open for free registration to anyone undertaking a systematic review with a health-related outcome. Developed and maintained by CRD and funded by the National Institute for Health Research, PROSPERO was launched in February 2011. The register now contains records of over 2,300 reviews being undertaken in 63 different countries.
Lesley Stewart, Director of CRD said, "As more and more new Cochrane protocols are included in PROSPERO, we look forward to seeing not only the direct benefits of facilitation of efficient use of research funding and safeguarding against bias, but also the indirect benefits from nudges to improve the quality of systematic reviews and the decisions that rely upon them." For further information contact Alison Booth alison.booth@york.ac.uk. (21 November 2013)
Duplication avoided!
Systematic review of outcomes of resuscitation: My experience with PROSPERO, by Madoka Inoue
I am a post-doctoral research fellow in Aus-Roc and PRECRU: Prehospital Resuscitation Emergency Care and Research Unit at Curtin University and am interested in paediatric resuscitation. In order to understand a whole picture of current situation in paediatric resuscitation, I and my supervisor, Prof. Judith Finn decided to undertake a systematic literature review in this area as a result of the discussion.
As our other research team members always access PROSPERO before undertaking any literature review, I accessed to this website in the beginning of September 2013. The PROSPERO was an internationally recognised registration system for literature review in any areas. Although I was disappointed when I found the existing review protocol, I also felt that the PROSPERO was an excellent system for avoiding duplicate topics implicating to focus on other topics.
However, we also would like to seek some possibilities for future topics in this area, we decided to send an e-mail to the chief investigator in the existing review team, Dr Bob Phillips. Dr Phillips kindly answered our e-mail, which was also useful information.
I hope that my experience will be useful to anyone, in particular young researchers and would like to use PROSPERO more for their research. (7 November 2013)
Feedback from registrant:
"My experience during registering my protocol was very pleasant.

The website design was very user friendly that saved my work for future editing. Also, it allowed easy exporting of all the filled forms into two famous documents formats, this allowed easier communication with the professors and supervisors.
On top of everything else, the super fast response of the registration team was amazing... oh I hope I can have such service with my Internet Service Provider!"

Dr. Rian Al-Murtadha
"Master of Orthodontics and Dentofacial Orthopedics" candidate at Cairo University" (9 October 2013)
2000th record now live!
PROSPERO now contains over 2000 records of prospectively registered systematic reviews. As the content grows the register provides a increasingly valuable resource for identifying on-going reviews to help avoid unplanned duplication of reviews. It is only 8 months since we hit the 1000 mark so many thanks to all of our registrants and supporters.
The 2000th record is for a systematic review of the effects of physical exercise on adults aged 65 years and over who have a diagnosis of dementia. The review is being undertaken by researchers at the The Australian Centre for Evidence Based Community Care: a collaborating centre of the Joanna Briggs Institute and can be found at: http://www.crd.york.ac.uk/PROSPERO/display_record.asp?ID=CRD42013005557 (5th September 2013)
The problem of duplicate systematic reviews
A survey of meta-analyses of RCTs published in the BMJ has concluded that, "While some independent replication of meta-analyses by different teams is possibly useful, the overall picture suggests that there is a waste of efforts with many topics covered by multiple overlapping meta-analyses."
As explained in the accompanying editorial, one of the advantages of registering a planned review on PROSPERO is to alert others and help avoid unplanned duplication of reviews. (27 August 2013)
Search interface survey
Thank you to all who participated in the survey of user preferences for your time and useful suggestions. The results will feed directly into the development of the new search interface. (
26 July 2013
)
Facts and figures
A big thank you also to all PROSPERO registrants for contributing to the success of the register, which is heading rapidly towards the 2000 record mark. Cumulative totals for new registrations since the launch of PROSPERO in February 2011 show the rapid growth in numbers. The truly international spread of countries where reviews are on-going can be seen in the 62 countries coloured in our world map – with Costa Rica, Hungary, Russia, Lebanon and Fiji being added in the last six months. (26 July 2013)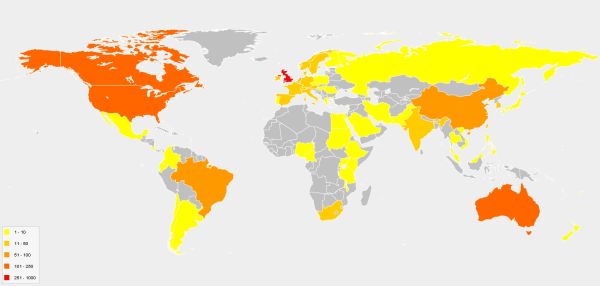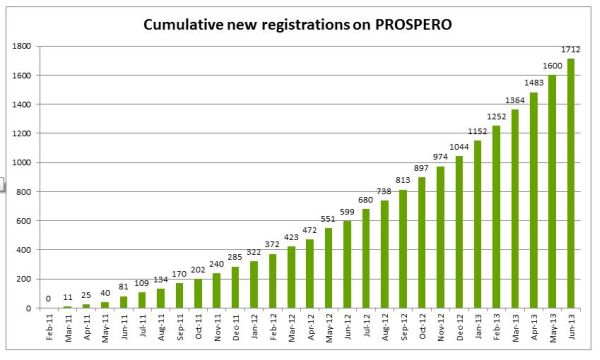 The ten records that had the most page views between Jan 2013 and June 2013 were:
Survey of users to inform plans for new search interface
The PROSPERO search facility is getting a make-over! Please take part in our five minute survey and tell us your preferences for search functions listed and suggest anything else you would like to see. Your responses will inform the development of the new search facility. To take part go to www.surveymonkey.com/s/PROSPERO_search (10th July 2013)
Avoiding duplication
A key aim of PROSPERO is to reduce unplanned duplication of reviews, and promote efficient use of resources. The NIHR HTA Programme demonstrated success for this aim: they decided not to commission research on restricted elimination diet in Attention Deficit-Hyperactivity Disorder when PROSPERO revealed that an overlapping research project was already in progress. (June 2013)
Scope for eligibility has been expanded to include:
Full details of eligibility can be found under 'Inclusion criteria' (June 2013)
BioMed Central endorse registration on PROSPERO
We are delighted to welcome BioMed Central, open access publisher of over 250 peer reviewed journals, as a supporter of PROSPERO. In recognition of the importance of prospective registration of systematic reviews BioMed Central have added a statement regarding registration to their editorial policies. Their authors are encouraged to register systematic review protocol details on PROSPERO and report the registration number in manuscripts. (April 2013)
1000 records!
CRD is pleased to announce that PROSPERO now contains over 1000 registrations. The 1000th record is for a systematic review of the accuracy of first trimester ultrasound in the diagnosis of ectopic pregnancy. The review is being undertaken by clinical researchers at the University of Nottingham in the UK and can be found at www.crd.york.ac.uk/PROSPERO/display_record.asp?ID=CRD42012003410
(13th December 2012)
Evaluation of utility of PROSPERO at one year: results published
Booth A, Clarke M, Dooley G, Ghersi D, Moher D, Petticrew M, Stewart L. PROSPERO at one year: an evaluation of its utility. Syst Rev 2013;2:4.
(1st November 2012)
500 mark reached
Over 500 records now available on PROSPERO giving details of systematic reviews being undertaken in 33 different countries.
Training materials now available to download from About PROSPERO pages:
(30th May 2012)
PROSPERO, looking good one year on
PROSPERO, the first open access online facility to prospectively register systematic reviews reports a successful first year with researchers from 27 countries around the world registering reviews.
We are delighted to announce that BMJ and BMJ Open have joined PLoS in supporting the principle of protocol registration and the aims of PROSPERO. In addition, the new BMC journal Systematic Reviews launched with a featured series of articles supporting systematic review registration and PROSPERO including a commentary on the NIHR position by Dame Sally Davies.
Read more...
(22nd February 2012)
CIHR support
PROSPERO now contains over 300 records of systematic reviews being undertaken in 27 different countries around the world.
Dr Ian Graham, Vice-President of Knowledge Translation and Public Outreach, at the Canadian Institutes of Health Research says:
"This central register will be an invaluable way of assisting knowledge users to identify the latest version of a synthesis, access up-to-date scientifically sound summaries of the evidence as well as identify researchers in key topic areas that may be beneficial for establishing future collaborations."
(12th January 2012)
Satisfied registrant
We are pleased to announce that there are 200 reviews being undertaken in 26 different countries now registered on PROSPERO!
Dr Lisa Askie, Manager of the Australian New Zealand Clinical Trials Registry (ANZCTR), and one of our registrants says,
"PROSPERO is a much needed resource which facilitates prospective registration of systematic reviews. The intuitive registration form is well tailored to the specific features of a systematic review and overcomes the difficulties associated with registering reviews on a standard trial registry."
(31st October 2011)
G-I-N becomes latest supporter
We are pleased to announce that Guidelines International Network (G-I-N) is the latest supporter of the principle of prospective registration of systematic reviews. G-I-N seeks to improve the quality of health care by promoting systematic development of clinical practice guidelines and their application into practice. It is an international not-for-profit association of organisations and individuals involved in the development and use of clinical practice guidelines. G-I-N has the world's largest international guideline library (www.g-i-n.net).
(25th August 2011 )
Latest news
Over 100 reviews now registered on PROSPERO.

Registered reviews are being carried out in Australia, Bahrain, Belgium, Brazil, Canada, China, Denmark, France, Germany, Greece, India, Italy, Netherlands, New Zealand, Norway, South Africa, Spain, Sweden, Switzerland, UK, Uruguay, USA, and Vietnam.

Average turn round time for submissions is currently three working days.
(26th July 2011)
Progress report
50 registrations added to PROSPERO in the first three months!

Registered reviews being carried out in UK, Canada, USA, Brazil, Australia, New Zealand, India, South Africa, Bahrain, Sweden, Denmark, Norway, Netherlands, Belgium, Germany, Switzerland, Spain, and Greece.

Average turn round time for submissions is currently four working days.

PLoS and äzq, the German Agency for Quality in Medicine, are the latest organisations to give support to the principle of systematic review protocol registration
(6th June 2011)
Registering a review
Registration is free and open to anyone undertaking systematic reviews of the effects of interventions and strategies to prevent, diagnose, treat, and monitor health conditions, for which there is a health related outcome.
Simply access the form by signing in and clicking on 'Register a review'. Once the required fields are complete, the form can be submitted. Go to 'My records' to complete forms for submission, record amendments or add publication details.
Benefits of registration to researchers
Provides a public record of planned methods

Raises awareness of the review

Assists in complying with PRISMA statement

Track use and impact of published review via the unique ID number

Permanent record whether final report published or not

Link to informal grey literature publications can be added
(4th May 2011)
PROSPERO opens for registrations
PROSPERO was launched by the NIHR on 22 February and promoted at a dedicated meeting in Vancouver on 18 Feb. In a ground breaking step the NIHR has announced that it will require all NIHR funded systematic reviews to be registered in PROSPERO.
PROSPERO is now accepting registrations. As the register will be built up from empty, initially the PROSPERO search will return few reviews.
PROSPERO is an international database of prospectively registered systematic reviews in health and social care.
Key features from review protocols are recorded on-line and maintained as a permanent record. Registration is straightforward and free of charge. PROSPERO issues a unique registration number which is the key to linking between a completed and planned review. Registration records are open access. Over time PROSPERO will provide a comprehensive listing of systematic reviews registered prospectively at the protocol stage.
(18th February 2011)